Oregon Maps
Showing 1 to 2 of 2 (1 Pages)
---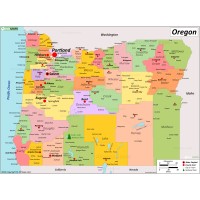 Oregon is a state in the Pacific Northwest region of the Western United States. The Columbia River delineates much of Oregon's northern boundary with Washington, while the Snake River delineates much of its eastern boundary with Idaho. The 42° north parallel delineates the southern boundary with California and Nevada.
Today, with 4 million people over 98,000 square miles (250,000 km2), Oregon is the ninth largest and 27th most populous U.S. state. The capital, Salem, is the second-most populous city in Oregon. Portland is the largest city in Oregon.
Oregon is one of the most geographically diverse states in the U.S., marked by volcanoes, abundant bodies of water, dense evergreen and mixed forests, as well as high deserts and semi-arid shrublands.
---