Australia Maps
Showing 1 to 3 of 3 (1 Pages)
---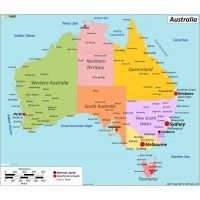 Australia, officially the Commonwealth of Australia, is a sovereign country comprising the mainland of the Australian continent, the island of Tasmania, and numerous smaller islands.With an area of 7,617,930 square kilometres (2,941,300 sq mi), Australia is the largest country by area in Oceania and the world's sixth-largest country.
Politically, Australia is a federal parliamentary constitutional monarchy, comprising six states and ten territories. Australia's population of nearly 26 million is highly urbanised and heavily concentrated on the eastern seaboard. Canberra is the nation's capital, while the largest cities are Sydney, Melbourne, Brisbane, Perth, and Adelaide.
Australia Surrounded by the Indian and Pacific oceans, separated from Asia by the Arafura and Timor seas, with the Coral Sea lying off the Queensland coast, and the Tasman Sea lying between Australia and New Zealand.
---